Summary rating from user's marks. You can set own marks for this article - just click on stars above and press "Accept".
Accept
Q1 Xbox 360 Headset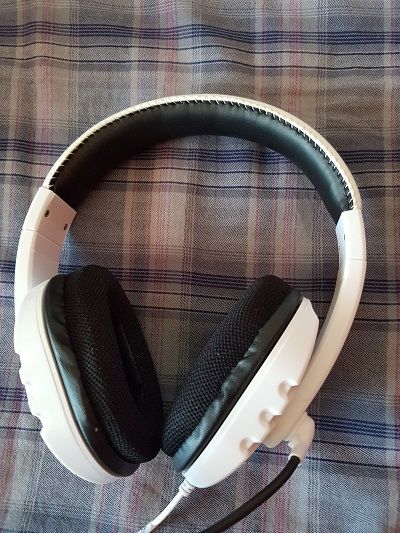 You know, in the modern day, you find so many companies and third party accessory providers have their take on the Xbox 360. How many times do we see a new company on the horizon with their own charging pack, thumb grips, or headset? If you go into a gaming shop, how many different types of headsets do you see? You`re spoilt for choice, and at a range of pricing. At AbsoluteGaming, we are very lucky to get our hands on some Q1 Xbox 360 headsets, by GameKraft, and that`s what we`re going to be looking at today.
So the headsets look pretty sweet. A white design with a black interior under the connector (I don't know what to call it) makes it standout and look pretty good. It doesn't weight too much too, which is a fantastic thing for me. I`ve used many headsets in the past where they`ve weighed a ton and you feel like you have a paperweight on your head, but the Q1 feels nice, and weights just nicely. Using an adjustable boom mic, you are able to situate the mic where you feel it better, perhaps a bit further away than the usual person, especially if you are a loud talker. The only thing I found is the adjustable mic doesn't go out very far compared to some headsets, and you perhaps find yourself limited at times in how far away you can put the mic away from your mouth.
So, into the controller we go. It uses a standard 3.5mm jack cable, and you are provided with 2 ends, a Shortish one and a longish one. Only needing the short one, I imagine the longer one would be for if you were wanting to listen to something else while talking and trashing people over Xbox Live. I would tie or elastic band up the cable you are not using, especially the long one, as you`ll find that`ll become a right nightmare in getting in the way if you`re not careful. I like the idea that GameKraft have done in providing it, but I wonder whether having it as an attachment would for me have been the better option. Between the headset and the controller, you have a few little features you can use to control the mic and volume within the headset. You can decide whether you are going to want to be heard (which I found useful at times, I didn't want to be heard raging over a game of FIFA) and how loud you want your party chat volume to be, and how loud you want your game volume to be.
A pretty bog standard feature, but to be given that on the headset is quite nice. I`ve seen some headsets that have come with very minimal features but for a budget headset, you`re offered good lean way and control into what you want to hear.
Now, onto the sound within the game, and it sounds very nice. Very crisp. Being able to hear people so smoothly and crisply is something that actually surprises me with a headset like these. History has had me known that when you pay something quite cheap in today`s pricing for headset, you aren't going to get as good quality as you are with much high-end headset. But, for the price, it sounds fantastic, and very smooth. You can`t go wrong.
For the price of around £13, you can`t go wrong with these. You really can`t. They feel great in terms of their comfortableness, and the way they sound, it`s great. For a cheap headset, for Xbox 360, then look no further than GameKraft`s Q1 Xbox 360 headset.
Thank you to GameKraft for supplying us with the headset to review.