AG Spotlight: Subz87
Twice a week, we will be running exclusive interviews with some of the AG Members within the community, as part of a way to get to know the AG community better.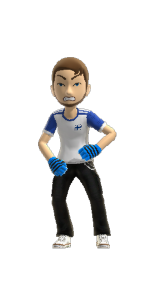 Today, we`re talking the Swedish wonderboy, Subz87 . Subz has been on the sight for 2 years now, and we caught up with him on a range of different things. While Avicii and Swedish House Mafia are playing in the background, I sat down with Subz at a nice fireplace, over tea, and some swedish biscuits.
What is your full name?
Pasi Haanpää
How old are you?
28 years old ( 29 in August)
What part of Sweden are you from? And how would you describe that?
I'm from Göteborg on the west coast. It's a rainy city with a lot of sports going on year around, when the Football ends the Hockey starts.
What do you do for a living?
I work as a Mailman. It's a great way to stay in shape as I bike to my districts, been doing that for 5 years, used to work as tech support for Logitech before they moved their support center away from Göteborg.
We know you play Football for your local side, how long have you been doing that for?
I played as a kid but stopped playing in a team when I was 10, when I was 16 I started to play for a team again, a friend from school asked if I wanted to join their team think it was a Division 6 or 7 team.
Now days I play for the Club where it all started for me when I was 6 years old, last season we won our play-off group to advance back to Division 5.
I mostly play on the wings, can also play striker, I won a few Top Scorer awards over the years.
How long have you been playing FIFA?
Since Fifa 10, I didn't really play football games at all growing up, was more in to Final Fantasy, Super Mario, Legend of Zelda , Counter-Strike and other games.
What`s been your favourite one?
Fifa 13, most due to playing Pro Clubs with Inter Buds, good times.
You like your skills, is that something you`ve always tried to play style wise?
I could do a few skills but my playstyle was a lot of 1-2 passing, it wasn't until I started playing Clubs with Inter Buds think it was Fifa 12 maybe , when I started to change my playstyle more towards how I play today.
Who would you say is the best player you`ve played on the site?
I would say Markos6969 is the best player I played against on the site, but since he is gone now, I would say it's a tie between aaronc333 and oBIGASHo
If you could play 1 cup final, the most prestigious one ever on AG, who would you like to play?
Hmm I have never played the best any on AG: MarcusJonesy in a 1 on 1 game, that should be a interesting game.
What do you like about the site?
It's a good group of gamers on here and it feels like there is always something going on that you can get involved with, Golf, Rocket League, Fifa , or chat shit on the shoutbox
What would you like to see improved/added? 
AG Podcast should be making a comeback